Asus Zenbook Flip 14 UX463FL-AI014T 2-in-1 Laptop – Core i7 1.8GHz 16GB 1TB 2GB Win10 14inch FHD Gun Grey English/Arabic Keyboard
Asus Zenbook Flip 14 UX463FL-AI014T 2-in-1 Laptop – Core i7 1.8GHz 16GB 1TB 2GB Win10 14inch FHD Gun Grey English/Arabic Keyboard
Key Information
نوع الكمبيوتر المحمول:

2-in-1

حجم الشاشة (بالإنش):

14 Inches

المعالج:

Intel Core i7

الذاكرة العشوائية:

16 GB

حجم التخزين:

1 TB

نوع التخزين:

SSD

السرعة:

1.8 GHz

اللون:

اللون الرمادي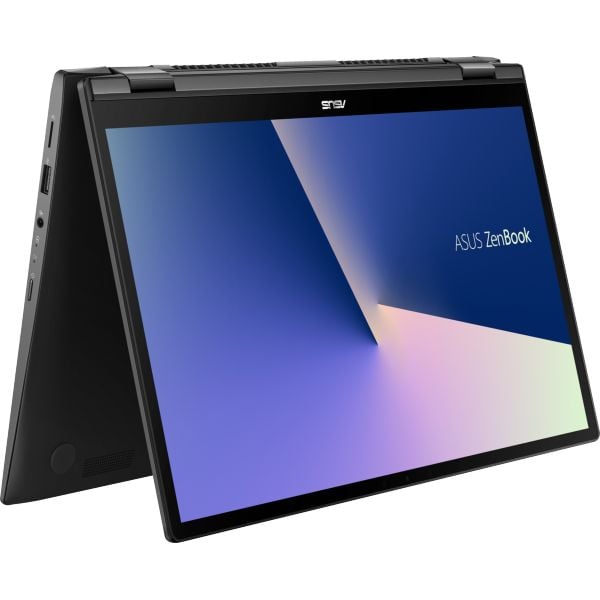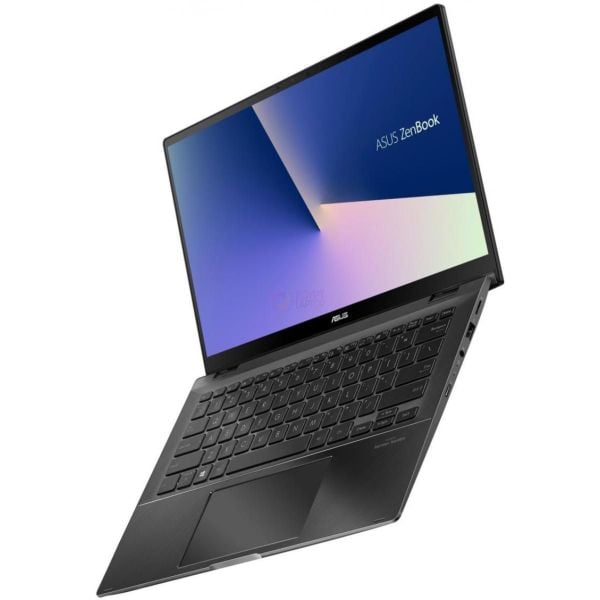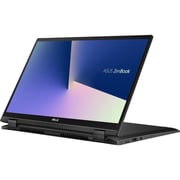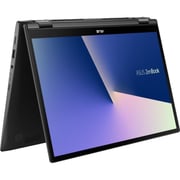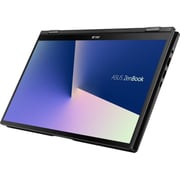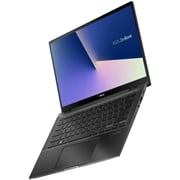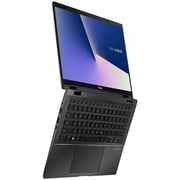 المنتجات التي شاهدها العملاء
The distinctive ZenBook Flip 14 combines the futuristic new ASUS ScreenPad™ 2.0 with convenience and versatility. ScreenPad 2.0 is an evolved intelligent LCD touchscreen that's integrated into the touchpad: it works with many apps to supercharge multitasking and give you expandable creative possibilities. The sleek four-sided NanoEdge design makes ZenBook Flip 14 extra compact, with an amazing 90% screen-to-body ratio. Its Intel® Core™ processor and high-performance discrete graphics give you effortless performance for on-the-go productivity and visual creativity. ZenBook Flip 14 is the versatile and powerful all-rounder that's your perfect creative partner.
NANOEDGE
Unbounded beauty
The frameless NanoEdge design of ZenBook Flip 14 brings a whole new dimension to your viewing experience. The ultraslim bezels give you expansive and immersive visuals that are distraction-free, making work or play a true pleasure.
ScreenPad™ 2.0
The Intelligent touchpad, evolved
The new ScreenPad™ 2.0 upgrades the traditional laptop experience, adding an interactive secondary touchscreen that enhances your productivity with more possibilities. Its intuitive smartphone-like interface lets you easily manage tasks and create your own seamless multitasking workflow. There's a series of handy ASUS utility apps to boost productivity including Quick Key — for one-tap automation of complex keyboard sequences — along with Handwriting, Number Key and Office Xpert. There are also useful quick controls that improve the interactions between the main display and ScreenPad: for example, you can now launch a video or chat box — or many other apps — onto ScreenPad to take advantage of the extra space wherever you are, and without interrupting your work on the main display.
ScreenPad™ 2.0
More possibilities
ScreenPad™ 2.0 intelligently fits many apps into the 5.65-inch touchscreen, and you can effortlessly add apps to ScreenPad for instant access. The newly-optimized ScreenPad experience ensures that your favorite apps, such as Evernote® and Spotify®, will work perfectly on this secondary display right away, without the need for a ScreenPad-specific version. ASUS also works closely with third party developers, including video-editing software developer Corel®, to optimize adaptive ScreenPad tools for the ultimate productivity — and there's much more to come. Get ready for the ScreenPad revolution!
DISPLAY
Awe-inspiring display
The FHD NanoEdge display on ZenBook Flip 14 is truly awe-inspiring, with pin-sharp detail and bright, vivid colors for more lifelike images. It's gorgeous for everyday use — the 90% screen-to-body ratio that not only provides stunningly beautiful visuals, but gives it ultracompact dimensions so it's smaller than ever before — and easier to carry anywhere!
HINGE
Unique 360° ErgoLift hinge
The 360° ErgoLift hinge on ZenBook Flip 14 has a silky-smooth, stepless action that holds the display securely at any angle. This innovative hinge also lifts and tilts the keyboard into a comfortable typing position when the display is opened beyond 135°. The ErgoLift hinge is torture-tested to ensure maximum reliability for total peace of mind.
PERFORMANCE
Incredible performance
Performance is crucial, and the versatile ZenBook Flip 14 doesn't disappoint. Every component has been selected to deliver the best possible performance in a compact design, making it an ultraportable powerhouse that's faster than ever before. You'll never be kept waiting by ZenBook Flip 14, however demanding the task.
GPU
Gaming-grade graphics
The NVIDIA® GeForce® MX250 discrete graphics chip in ZenBook Flip 14 supercharges your laptop for work or play. It gives you up to 3.5x-faster performance than an integrated graphics chip for photo and video-editing applications, as well as faster, smoother gaming. With the ultraportable ZenBook Flip 14 you have the ultimate power for on-the-go content creation at your fingertips.
CONNECTIVITY
Convenient connectivity
A comprehensive set of high-performance I/O ports gives ZenBook Flip 14 the ultimate, hassle-free connectivity for versatile flexibility whether you're in the office or on the road. And the integrated Intel Wi-Fi 6 with Gig+ (802.11ax) gives you wired-equivalent network speeds — without the wires!
IR CAMERA
Secure facial log in
With ZenBook Flip 14 and Windows Hello, your face is your password! The front infrared (IR) camera recognizes your face in seconds and lets you log in instantly and securely.

USER EXPERIENCE
Efficient NumberPad 2.0
ZenBook Flip 14 also comes with an optional ASUS NumberPad4 version, with an LED-illuminated numeric keypad integrated into the touchpad. Tap on the top-right NumberPad icon for one second to switch the function on and off, and tap on the top-left icon to choose one of two brightness levels. You can also swipe from the top left icon towards any direction on the touchpad to activate the calculator app on the display for faster access. Even when NumberPad is activated, the touchpad can be used for cursor control thanks to its intelligent software.
USER EXPERIENCE
The intelligent Alexa
Alexa makes it easy to voice control your day. At home or on the go you can ask Alexa to play music, read the news, answer questions and more. Just ask, and Alexa will respond instantly.
AUDIO
Harman Kardon audio
To give ZenBook Flip 14 unsurpassed audio capabilities, the ASUS Golden Ear team cooperated with audio specialists Harman Kardon to produce the next generation of ASUS SonicMaster Premium audio technology. The results are astonishing. ZenBook Flip 14 has two high-quality stereo speakers and surround-sound effects that envelop you with cinema-quality audio. A special smart amplifier ensures maximum volume with minimum distortion for powerful, clear sound. ZenBook Flip 14 delivers the most incredible sound from any angle on a convertible form factor.
الأساسي
العلامة التجارية
إسوس
اللون
اللون الرمادي
عام
نظام التشغيل
Windows 10 Home
نوع الكمبيوتر المحمول
2-in-1
الشاشة
حجم الشاشة (بالإنش)
14 Inches
التصميم
FHD (1920 x 1080)
نسبة الامتداد / نسبة العرض إلى الارتفاع
16:9
شاشة اللمس
Yes
المعالج
المعالج
Intel Core i7
السرعة
1.8 GHz
نموذج
10510U
الجيل
10th Generation
عدد المعالجات
4
الذاكرة
الذاكرة العشوائية
16 GB
نوع الذاكرة العشوائية
DDR3
التخزين
حجم التخزين
1 TB
نوع التخزين
SSD
الرسومات
بطاقة الصور
NVIDIA GeForce MX200 Series
نوع بطاقة الصور
GeForce MX250
ذاكرة الصور
2 GB
الطاقة والبطارية
نوع البطارية
Li-ion
سعة البطارية
50 Whr
رقم الخلية
3
محول الطاقة
65 Watts
سعة الإدخال
100-240 Volts
سعة الإخراج
19 Volts
الصوت
السماعات
Built-in Speaker
ميكروفون
Built-in Array Microphone
الأبعاد والوزن
الأبعاد
1.79 x 32.00 x 20.60 cm
المدخلات
لوحة المفاتيح
English/Arabic Keyboard
لوحة مفاتيح مضيئة
Yes
الاتصال
نوع الواي فاي
802.11ax
البلوتوث
Bluetooth 5.0
واجهة متعددة الوسائط عالية الوضوح HDMI
1 x HDMI 1.4
USB
1x USB 2.0 Type-A | 1 x USB 3.2 Gen 2 Type-A | 1 x USB 3.2 Gen 1 Type-C
منافذ التوسيع
1 x M.2 2280 PCIe 3.0x4
الكاميرا
كاميرا متصلة بالانترنت
HD camera with IR function
S100591188