Miele Built In Microwave Oven M 7244 TC
Key Information
سعة الفرن:

46 Litres

مدمج/ بدون قاعدة تثبيت:

Built In

الأبعاد (العرض*الارتفاع*العمق):

456 x 595 x 560 mm

اللون:

Stainless Steel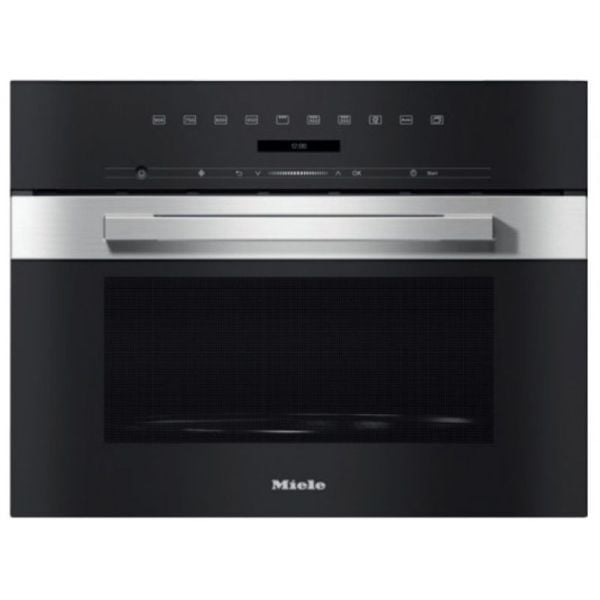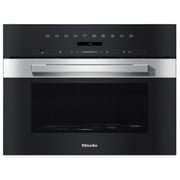 المنتجات التي شاهدها العملاء
In the best possible light
The LED spotlight perfectly illuminates the oven compartment on a lasting basis thanks to its maintenance-free characteristics. It is also particularly energy-efficient.
Perfect browning
Visible flavour: the integrated Quartz grill browns your dishes evenly and quickly in combination with the turntable – operating at full power after just a few seconds. This adds the perfect finishing touch to potato-topped dishes and certain desserts, for example, and ensures they taste as good as they look.
Functional through and through
Benefit from sophisticated functionality: the interior cabinet of Miele microwave ovens is made entirely from stainless steel. This ensures efficient distribution of the microwaves. And makes it particularly easy to clean.
Finish for flawless stainless steel surfaces
Special finish: Miele stainless steel appliances feature a particularly high-grade CleanSteel finish. This makes the surface very easy to clean without requiring any special cleaning agents. Fingerprints? Virtually invisible on Miele CleanSteel.
Large oven compartment for flexible use
With a usable oven compartment volume of 46 litres, our appliances with TopControl provide all the space and flexibility you need to get creative in the kitchen.
Gentle door movement
A real eye-catcher: the door features a sophisticated cushioning mechanism for elegant opening and closing. It opens to 90° – for convenient, unobstructed access to the food in the oven compartment.
The only thing that gets hot is the food
Miele microwave combination ovens are cooled on all sides. This ensures that controls, handles and adjacent cabinets stay relatively cool to the touch. The multi-layer panels insulate the oven door effectively and ensure a low temperature on the outside of the door, providing safety and protection against burns.
Success every time
Convenient and stress-free: the automatic programmes do the cooking for you. Simply choose the desired programme and enter, for example, the weight of the food. The appliance works out the power setting and cooking duration automatically. There is no need to select anything else or monitor the process. With the automatic programmes for defrosting and subsequent cooking and for preparing fresh food, you can be confident of success every time.
Maximum power at the press of a button
Full power at your fingertips: this function offers quick access to the highest microwave power level. By pressing the button 1, 2 or 3 times, you can operate the appliance for 30, 60 or 120 seconds. It will then switch off automatically. You can easily reprogramme the defined times to suit your personal preferences – for example, for a regular cup of tea in the evening or for quickly warming up baby bottles.
Optimise your processes
Two steps in one: you can now cook and brown food in a single process. You can cook delicious bakes, pizzas or crispy chicken legs using combination mode without having to change settings or check the cooking process partway through.
Fresh popcorn at the press of a button
What would a good film be without popcorn? With our automatic popcorn programme, you can make delicious microwave popcorn at home at the press of a button. Times and wattages are tailored to a 100 g packet of microwave popcorn. If you like your popcorn crispy, you can adjust the times to suit your preferences.
Perfect temperature
What if your food is ready but you don't want to serve it until later? The Automatic keeping warm function will keep food at serving temperature for up to 15 minutes. It couldn't be easier: the function will start automatically two minutes after a process has finished as long as the door has not been opened and buttons have not been pressed.
Leave time management to your oven
Simply set the start time, end time or duration of the cooking process and everything will be ready when you want it. The cooking process ends automatically when the programmed cooking duration comes to an end. The integrated minute minder is also a convenient option for many situations. Furthermore, in the event of a power cut the set time is saved for approximately 150 hours.
Easy to understand
Guaranteed user convenience: numerous languages are available to choose from for the display text, so users can operate the appliance in a language they understand. MultiLingua is available for all appliance controls as of DirectSensor S.
الأساسي
العلامة التجارية
ميلي
اللون
Stainless Steel
عام
النوع
Built In Microwave Oven
مدمج/ بدون قاعدة تثبيت
Built In
سعة الفرن
46 Litres
خيارات الأمان
Appliance cooling system and touch-cool fronts | Safety switch-off | System lock. | Safety lock "Door" warning.
تصنيف التركيب
Built In
الأبعاد
الأبعاد (العرض*الارتفاع*العمق)
456 x 595 x 560 mm
الطاقة
الجهد الكهربائي
220-240 Volts
التردد
50 Hz
المميزات
خصائص/ مميزات إضافية
Clear-text display with sensor controls – DirectSensor S. | Optimum and even browning – integrated Quartz grill. | Perfect defrosting and cooking – Automatic programmes. | Plenty of room – 46 l oven compartment volume and 40 cm turntable. | Popcorn at the touch of a button – Popcorn button.
S100680327