Bosch Bottom Freezer 415 Litres KGN46XL3E8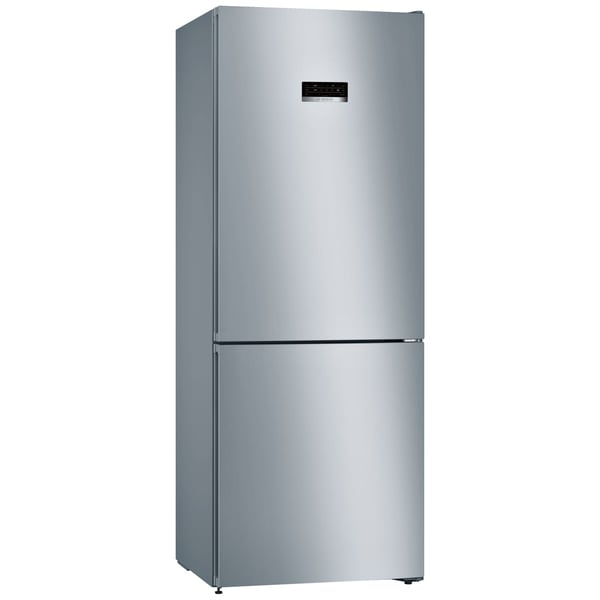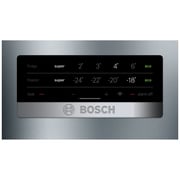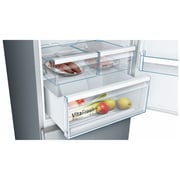 Bosch
Bosch Bottom Freezer 415 Litres KGN46XL3E8
Key Information
Number of Doors:

2

The freezer is at the bottom

Type:

Bottom Freezer

Gross Capacity:

415 Litres

Net Capacity:

385 Litres

Weight:

80.365 kg

Dimensions (H x W x D):

1860 x 700 x 655 mm
Details
Serie | 4 free-standing fridge-freezer with freezer at bottom 186 x 70 cm Appearance of Stainless Steel
Easy access Shelf: Retractable Glass Shelf For Convenient Food
Loading And Unloading And For Optimum Visibility.
Led Lamp: The Refrigerator Lights Up Evenly Without Dazzling, Throughout The Machine's Life.
Variegation Variable Range: More Versatility Thanks To The Versatile Glass Shelves And Freezers
Fresh Air Without Bacteria: Airfreshfilter
Airfreshfilter With Antibacteria Effectively Neutralizes Odors In The Refrigerator And Filters The Bacteria Out. As Unpleasant Substances Are Absorbed From Foods With A Thick Odor, The Air Remains Clean And Fresh – Without Replacing The Filter For The Machine's Longevity.
It's Easy To Buy Fresh Food. But Keeping It Fresh Is Not Easy. Vitafresh Fresh Food System Compartments Help You Store Fresh Food For Longer. It Always Maintains Proper Storage Conditions, Thanks To Two Different Freezing Areas. A Low Temperature Zone Around 0 ° C, Where You Can Store Fish And Meat Hygienically In Two Separate Drawers. This In Turn Prevents Mixing Of Odors. A Wet Area: A Large Drawer Specially Designed For Fruits And Vegetables. The Humidity Conditions In The Tray Can Be Adjusted To Two Settings To Better Preserve Vitamins And Minerals. It Is Easy To Eat Fresh And Healthy Food Every Day.
Full Flexibility In The Freezer Area.
You Can Easily Loosen The Safety Glass Shelves In The Freezer Area To Make Room More Spacious – For Multi-Level Cake Storage, Or For Example A Whole Turkey. Family-Sized Foods Can Be Stacked Easily On Glass Surfaces.
Led Lighting: Keep The Refrigerator Contents In The Spotlight.
Led Lights Provide A Completely New Concept Of Lighting In Refrigerators, Ensuring Interior Lighting Without Glare. Led Lights Consume Less Electricity Compared To Traditional Refrigerator Lights And Last A Lifetime (Machine).
Fresh sense
: The Perfect Storage Climate.
Thanks To Optimal Storage Conditions, Food Maintains Great Consistency. Ice Cream, For Example, Is Neither Too Soft Nor Too Frozen. The Constant Temperature Inside The Refrigerator Is A Critical Factor In Reaching More Fresh And Fresher Products. Fresh sense Sensors Constantly Monitor And Control The Ambient Temperature And Freezer Temperature. As A Result, You Will Have A Constant Temperature Inside The Refrigerator Independent Of The Outside Temperature.
Super freezing: Protect Pre-Frozen Foods.
Super freezing Protects The Frozen Aftertaste From Thawing When Adding New Foods To The Freezer, And The New Food Cools Faster. The Devices With Automatic Freezing Return To Normal Operating Position Once The Required Temperature Is Reached. This In Turn Saves Energy.
Save Frozen Foods With Super cooling.
If The Super-cooling Function Is Activated, The Newly Purchased Food Is Cooled More Quickly. At The Same Time, It Prevents Overheating Of Food Already In The Refrigerator. The Temperature Is Lowered By Pressing A Button To Reach A Temperature Of 2 ° C. To Avoid Unnecessary Power Consumption, The Function Is Automatically Switched Off After 6 Hours.
Multiple Flow System: Even Distribution Of Air To Provide Freshness For A Longer Period.


The Fan-Powered Multi-Flow System Provides Cold Air Currents At Levels In The Cool And Freeze Areas. Temperature Fluctuations Are Reduced And Cooling Times Reduced – Helping Foods Retain Flavor Longer.
With No-frost, Moisture In The Air Is Collected In A Central Feather Evaporator Rather Than In The Appliance Or On Foods. This Freeze, Which Pulls The Heating Out Of The Freezer Area, Is Automatically Thawed From Time To Time. The Resulting Condensation Is Taken Out And Vaporized Using Compressor Heating In A Special Collection Container. This Reduces Moisture In The Device, Which Means That There Will Be No Snow At All. So No More Worry About Freezing Food Anymore.