Bosch Kitchen Machine 900 Watts Grey Black MUM57B22
Bosch Kitchen Machine 900 Watts Grey Black MUM57B22
Key Information
Type:

Kitchen Machine

Power Consumption:

900 Watts

More power will help you process food faster

Power Supply:

220-240 Volts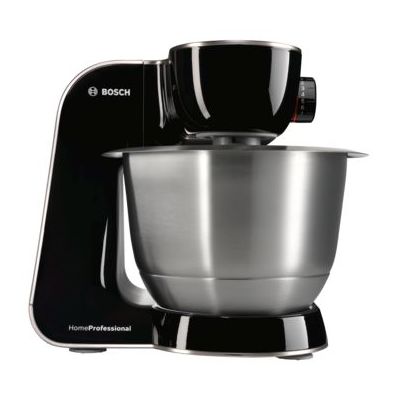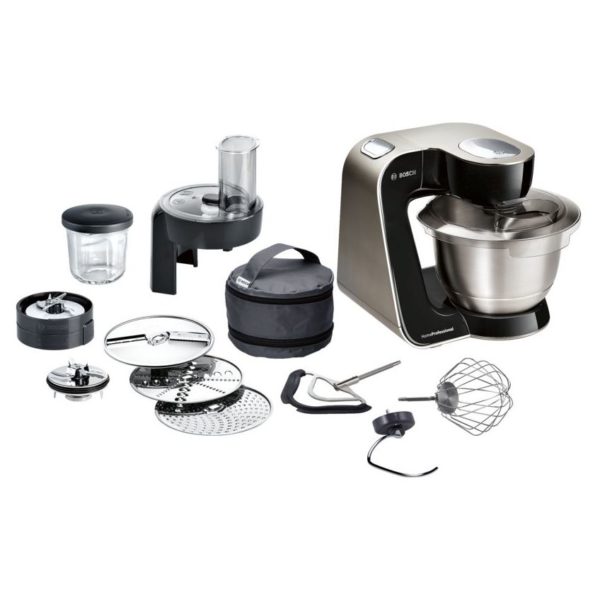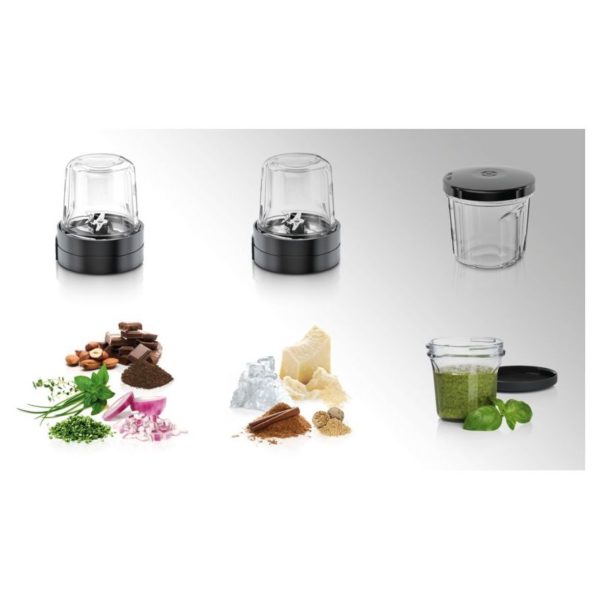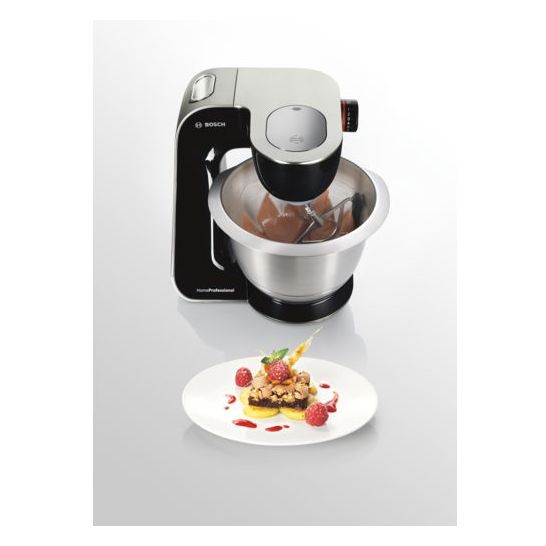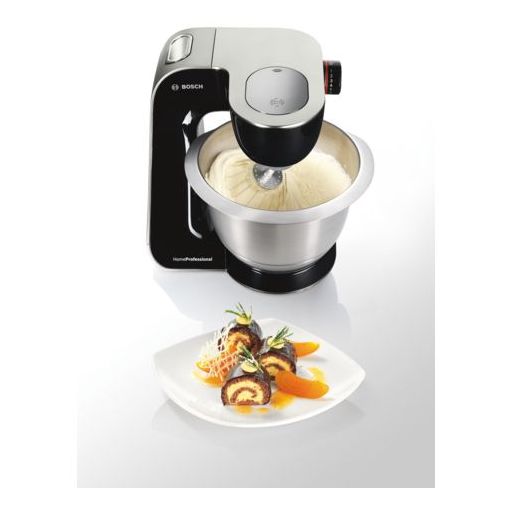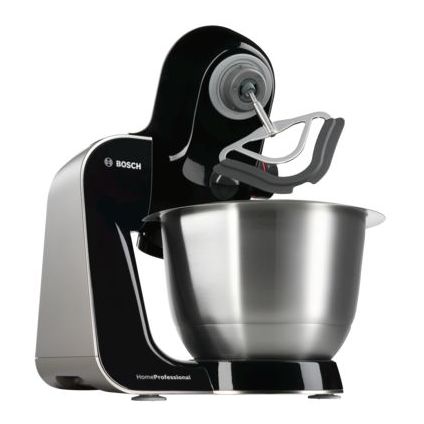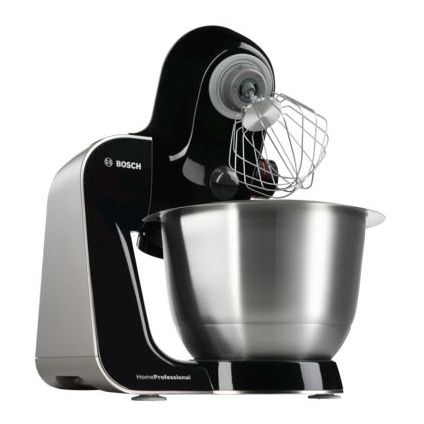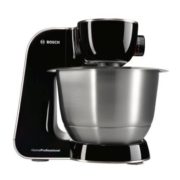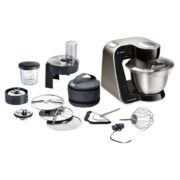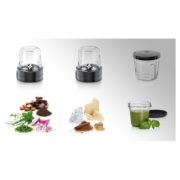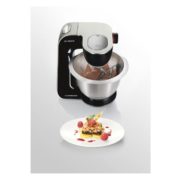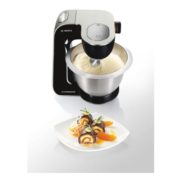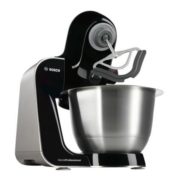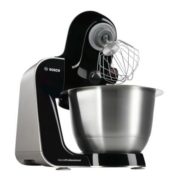 MUM5 — the powerful kitchen machine with award-winning design for professional requirements — with grinder, chopper, professional patisserie set and continuous shredder. Piano Black / brushed stainless steel
MUM5 design/material — design awards included.
With form and function in perfect harmony, the award-winning design is a treat for the eyes. A wide range of exceptional, trendy colours are available to suit your individual taste.
Easy ArmLift — for added convenience.
The innovative Easy ArmLift provides extra convenience. It works at the touch of a button and supports lifting of the multifunction arm, so you can replace dough tools with exceptional ease, speed and convenience.
Auto CableRewind — store your cable in an instant.
If you've finished working, then gently pull on the cable and the automatic cable rewind will make the cable disappear completely into the appliance. It couldn't be easier or more convenient.
Large mixing bowl — space for everything
.
With its 3.9 l volume for a maximum dough quantity 2.0 kg, this mixing bowl offers sufficient space for creative ideas. With up to seven processing levels and a powerful pulse function.
900-watt motor Power and intelligent technology.
In combination with the new electronics and the innovative Multi-Motion-Drive function, the 900-watt motor provides plenty of power and a high mixing speed, so even heavy doughs are mixed to optimum effect.
3D Planetary Mixing — a new dimension in mixing.
The advanced, unique planetary mixing gear enables powerful mixing movements in three dimensions at all times, so all the ingredients are always thoroughly mixed to optimum effect — with perfect results every time.
Professional Tools — professional flexible stirring whisk with silicone finish and the professional beating whisk.
Not only is it a conventional for making sponge mixtures, you can now make extremely light and fine mixtures, such as pâtisseries or creams, and always get the highest level of quality. The height-adjustable professional beating whisk, made from solid metal, makes it quick and easy to process fine and even sponge mixtures, as well as dough. The reinforced wires ensure more air is beaten into the mixture, so you can make quick and perfect egg whites and cream with a fine and airy consistency.
Professional Tool — professional flexible stirring whisk with silicone finish.
This whisk does more. It's not only conventional sponge mixtures that are as easy as pie — now you can also make extremely light and fine mixtures, such as demanding pâtisseries or creams, and always at the highest level of quality. That's because the silicone coating guides the professional flexible whisk right along the edge of the bowl. It's also ideal for folding in ingredients like egg whites.
SafetyFunction — safe and secure.
Maximum safety in every situation and in all areas: covers for unused drives, safety-lock mechanism for the mixing bowl, extra lid latch on accessories and many other functions for active safety.
Powerful 900 W motor
Colour of body piano black

7 Switch settings plus Burst setting / burst switch
Stainless steel bowl with 3.9 l capacity
Continous shredder with 3 disks (5 functions) Professional Supercut reversible disk
3D mixing system "Multi-motion-drive"
Multifunction arm with special gearing and
3 drive positions for optimum power transmission
Professional patisserie set for perfect results:
Professional flexi stirring whisk with silicon edge, Professional beating whisk (height adjustible & full metal), kneading hook with gear protector
Electronic speed control
EasyArmLift: Easy and effortless moving of multifunctional arm, by the push of a button
Compact multi-mill: grinder, chopper and practical integrated storage solution
LED display for operating mode and failure mode
Gentle start up
Automatic stand-by setting of tools for easy filling of bowl
High quality side panel with brushed stainless-steel-look metal plating
transparent lid with filler hole
Booklet with gourmet recipes
Easy to clean
High safety due to overheating protection
Electronic safety shut-off
Extensive range of optional accessories
accessory bag dark grey
Automatic cable rewind
General
Built In / Free Standing
Free Standing
Type
Kitchen Machine
Other
Large stainless steel mixing bowl (3,9l) with special shape inside. Ideal for all kinds of dough:
Features
Features
up to 2 kg of sponge mixture or 1.5 kg of yeast dough
Additional Features
Inclusive compact, versatile multi-mill with well thought-out 3-in-1 functionality: grinder, chopper and practical integrated storage solution.
Other Features
Great multifunctionality thanks to professional patisserie set (professional beating whisk, professional flexible stirring whisk, kneading hook), continuous shredder with professional Supercut cutting disc, reverse shredding disc and smooth grating disc for endless baking joy.
Body
Outside Dimensions
282 x 280 x 271 mm
Weight
7 kg
Power
Power Supply
220-240 Volts
Hertz
50-60 Hz
Power Consumption
900 Watts