Bosch Steam Iron 2400W White/Red TDA3024010
Key Information
Type:

Steam Iron

Water Tank Capacity:

320 ml

Steam Output:

40 g/min

Soleplate:

CeraniumGlissée

It is the bottom or downside of the iron

Power Consumption:

2,400 Watts

Higher the wattage, the quicker and hotter the iron gets

Power Supply:

220-240 Volts

Color:

White/Red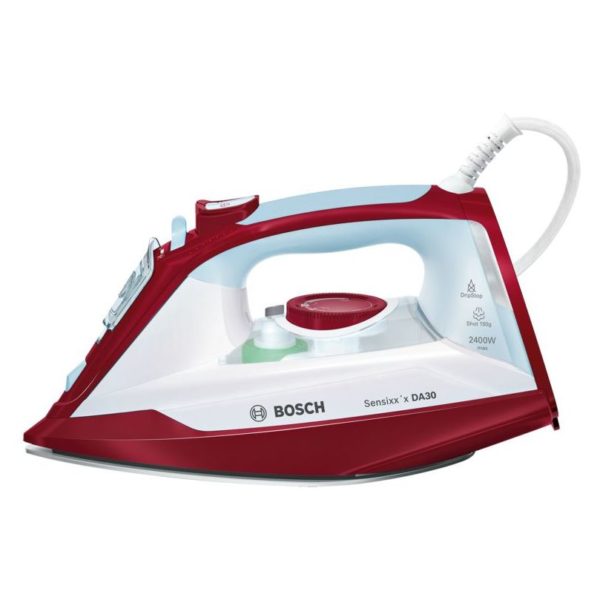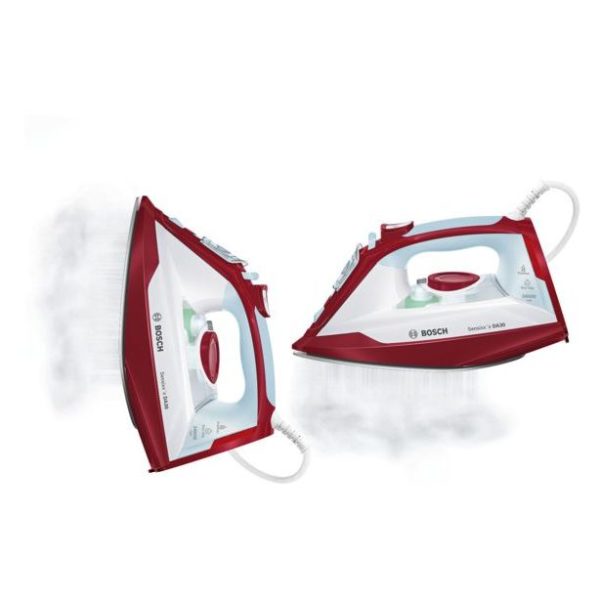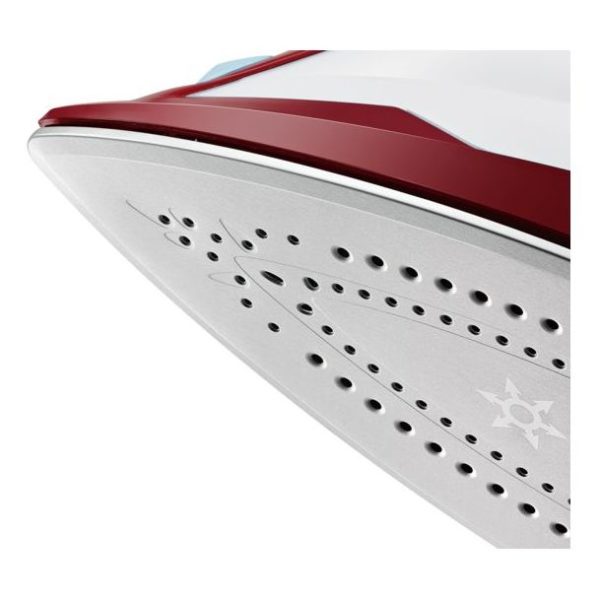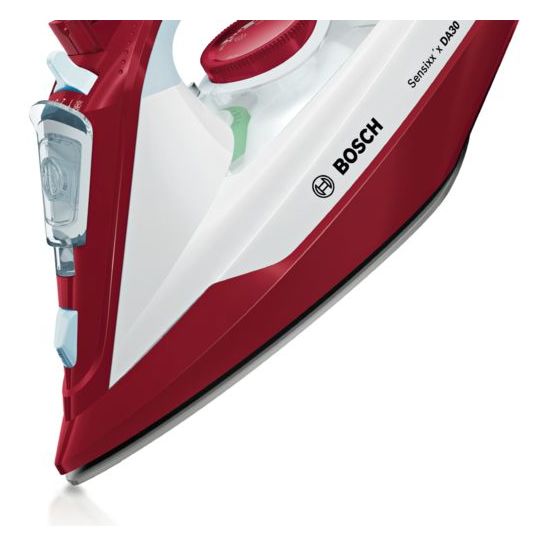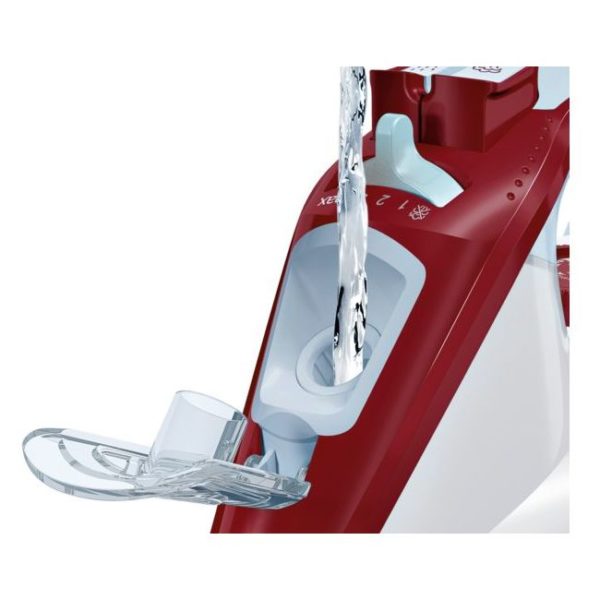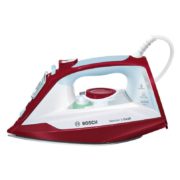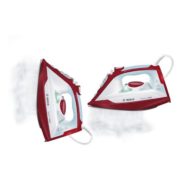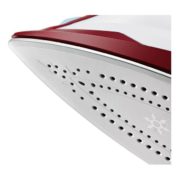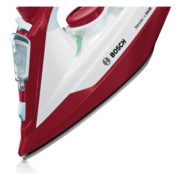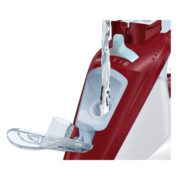 Bosch TDA3024010 Steam Iron 2400W White/Red
Comfortable and crease-free ironing in all directions – in your favourite colour.
Multi-directional CeraniumGlissée soleplate for fast and crease-free ironing in all directions.
Steam shot volume: 150 g
3AntiCalc: triple cleaning function with self-clean, calc'n clean and integrated anti-calc system.
MultiDirectional: iron in all directions
Satisfaction all over: a high degree of flexibility guarantees you perfect results with completely crease-free fabrics. This is possible due to the multi-directional soleplate — a true innovation and a real aid when ironing, which is sure to bring a smile to your face.
DripStop: no risk of watermarks.
The DripStop function is a built-in control in the iron, which independently controls the temperature of the water flow. This prevents water droplets and unsightly watermarks on fabrics. After all, there is nothing more annoying than having to put a garment back in the washing basket instead of being able to place it on the pile of ironed laundry. DripStop also works even at low temperatures.
3AntiCalc: ready for operation for longer.
All good things come in threes — this applies to the service life of an appliance too. The 3AntiCalc function, as the name implies, is a threefold function comprising SelfClean, Calc'nClean and a built-in AntiCalc System. It effectively prevents the build-up of limescale in your appliance and reliably increases the service life of your Bosch iron.
AdvancedSteam System: steam for professionals.
Leave nothing to chance when it comes to ironing. You can rely on our innovative AdvancedSteam System with an optimal and powerful steam output rate. It allows a targeted distribution of the steam over the fabric and deeper penetration into the fabric. How? Using a refined system and the interaction of steam channels, outlet wholes and guides. This targeted steam makes ironing easier and also brings you to your goal faster: a pile of ironed laundry.
CeraniumGlissée: glides superbly.
The tough and durable soleplate allows to glide particularly freely over all fabrics. The optimal steam distribution ensures perfect ironing results thanks to the intelligent and innovative arrangement of the steam channels. The patented Bosch 3-phase design is also typical for this soleplate. Look forward to exceptionally smooth fabrics.
Power: 2400W
Multi-directional CeraniumGlissée soleplate – for smooth and crease-free ironing into all directions
AdvancedSteam System: optimized steam distribution due to a new advanced soleplate design
ergonomic design for convenient ironing
Continuous steam 40 g/min
Shot of steam 150 gr
Vertical steam
Large transparent water tank (320 ml), for easy and fast filling
Water spray function
Variable steam control
Variable temperature control
LED control light
Slim ironing tip – easy ironing along with the buttons and seams
QuickFilling: bigger filling inlet with lid for fast and easy filling/emptying
3AntiCalc: triple cleaning function with self-clean, calc 'n clean and built-in anti-calc system
Drip-stop function
Extra-long 2 m cable with flexible joint and cord tidy facility
Optional accessories: descaling solution TDZ1101
Main
Brand
Bosch
Color
White/Red
General
Type
Steam Iron
Features

comfortable SoftTouch handle
convenient ThumbRest
ergonomically shaped big buttons
Features-Irons
Water Tank Capacity
320 ml
Steam Boost
150 g
Steam Output
40 g/min
Soleplate
CeraniumGlissée
Others
Seflclean system: Valve cleaning needle | Power-on indicator
Power
Power Consumption
2,400 Watts
Power Supply
220-240 Volts
Physical
Dimensions
150 x 121 x 290 mm
Weight
1.451 kg