Braun Rechargable Electric Men Shaver 3 in 1 MBS3
Braun Rechargable Electric Men Shaver 3 in 1 MBS3
Key Information
Type:

Shaver - Men

Corded:

No

Color:

Black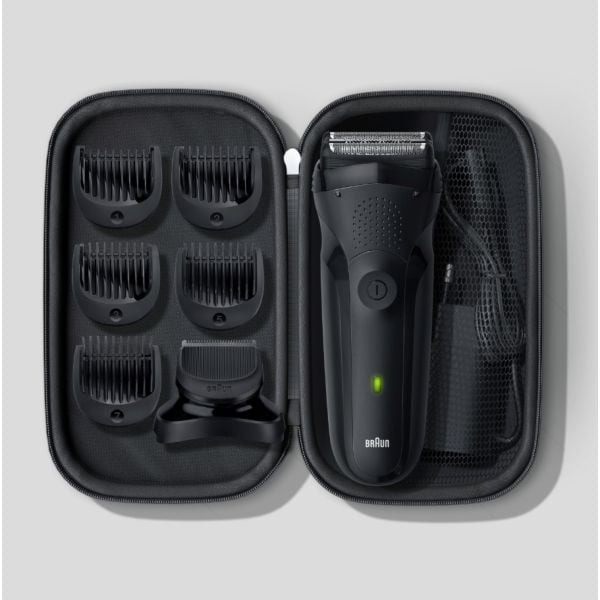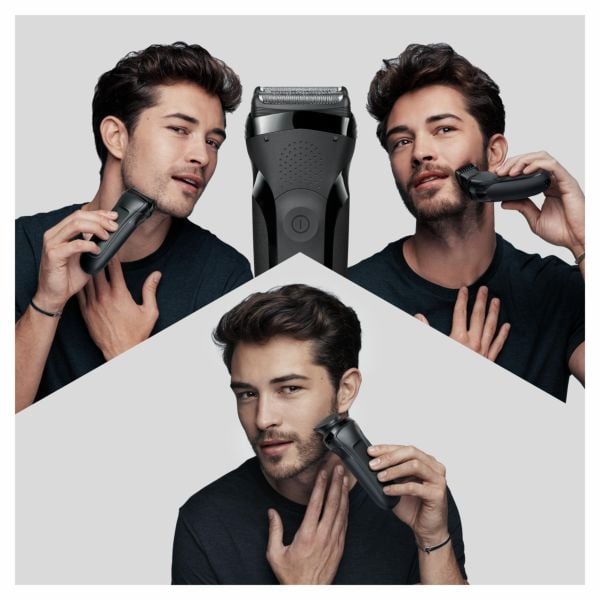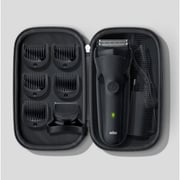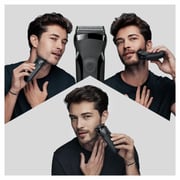 This electric shaver embodies Braun's philosophy: good design is paramount. The appliance has three adjustable shaving elements.The pressure-sensitive blades shave gently and reach even the smallest areas
A century of good design
For 100 years, good design has been at the heart of the philosophy on which all Braun products are based. The Series 3 Design Edition shaver is a pure reflection of Brown's essence: simple, useful, and designed to last.

Good design is simple
Braun products are designed to be easy to use. With the S3 Design Edition shaver, you can create your own style at the touch of a button – the simplicity of a complex engineering process.
Good design is useful
We believe that good design is useful. Each of these five chin trimmer attachments is designed for a specific task – to ensure an even chin length between 1 mm and 7 mm.
Good design is designed to last
Every design is supported by first-class materials and high-quality workmanship. We have been manufacturing Braun products for 100 years for durability that defies time, trends and wear.
Shaving, trimming and shaping the edges
Whether it's beard trimming, precise trimming or a smooth shave, the Series 3 Design Edition shaver is designed to achieve your look with precision.
Thin precision head
Full shaving power offered by the Series 3 Design Edition shaver is concentrated in the narrow precision head, which makes it easier to shave tight or rounded areas such as the chin or the area under the nose.
Three adjustable blades for a thorough shave The
Shaver is equipped with three adjustable shaving elements that shave the hair thoroughly and smoothly together, effectively cutting long and short hair with each stroke.
Powerful Ni-MH battery
Ni-MH battery. 30 minutes of operation with a fully charged battery, fast charging for one shave in just 5 minutes.
Main
Brand
Braun
Color
Black
General
Type
Shaver - Men
What's in the Box
1 x electric shaver
1 x Travel Case Design Edition
1 x trimming head
2 x nastavka 1–2 mm
3 x attachments 3–7 mm
1 x protective cap
1 x cleaning brush
1 x smart plug
Features
Features
3 in 1 electric shaver: shaving, trimming, edging. Beard trimming head, 5 short hair extensions 1-7 mm long. | Shaver with exclusive travel case - limited edition on the occasion of the 100th anniversary of the Braun brand. | |
Additional Features
This electric shaver is equipped with a trimmer head for precise shaping of tabs and mustaches. | Three specialized, flexible shaving elements of the shaver head ensure a thorough and gentle shave. | Designed for longevity: an electric shaver developed in Germany. | Ni-MH battery for up to 30 minutes of shaving. 5-minute quick charge for one shaving procedure.
Body
Dimensions
8.50 x 26.10 x 13.40 cm
Corded
No
Power & Battery
Battery Type
NiMh battery
Operation time
30 min
Charging time
1 hour
Weight
Weight
0.68 KILOGRAM
S100588121