LG Side By Side Refrigerator 624 Litres GCX247CSBV
Roll over image to zoom in
Click to expand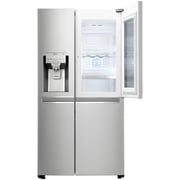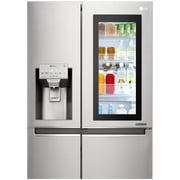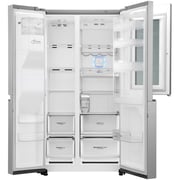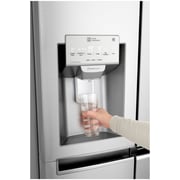 LG
LG Side By Side Refrigerator 624 Litres GCX247CSBV
Key Information
Number of Doors:

4

It offers easy access for the fridge and freezer section

Type:

Side By Side Refrigerator

Gross Capacity:

624 Litres

Dimensions (H x W x D):

1720 x 908 x 620 mm

Color:

Stainless Steel
Details
LG Side By Side Refrigerator 624 Litres GCX247CSBV
INVERTER LINEAR COMPRESSOR
LG's Linear Compressor technology enables its refrigerators to be industry leaders in energy savings, freshness, noise levels, capacity and durability. The Linear Compressor efficiently controls cooling power and saves energy upto 32% and reduces the noise level by 25%. Changing from reciprocal to piston drive means optimal efficiency and big energy savings. Fewer friction points work to reduce noise levels significantly while enhancing the product's durability, allowing LG to offer a 10-year warranty on refrigerators utilizing the Linear Compressor.
Door In Door
This unique LG Door-in-Door helps easy access to your favourite beverages & food items by just opening the Door-in-Door.
Make a choice between ice or water by simply pressing the button on the Soft – Touch Control Pad. And in case you want water, the LG's tall Water Dispenser allows you to fill larger vessels. Enjoy the options at your fingertips.
Multiple cooling air vents distribute and circulate cool air to every corner of the refrigerator, ensuring that each and every food item is properly cooled.
99.999% FRESH AIR with Hygiene Fresh+™
LG's Hygiene Fresh+™ technology uses a 5-stage filter that eliminates most food spoiling agents, such as dust, fungi spore, acidic and alkaline odors and bacteria. The system removes up to 99.999% of air-borne food contaminants and purifies the air inside the refrigerator so that fresh produce and perishables last longer.
These digital sensors monitor and respond to warm food by opening doors instantly, so as to keep the interior temperature constant.
Express freezing at your fingertips. It will be turned off automatically when the fixedtime passes.
LG's Smart Diagnosis™ is a fast and easy way to troubleshoot issues. Simply call the LG Customer Service Helpline and place the phone on the appliance. The appliance then communicates with a computer that produces a diagnosis within seconds and provides an immediate solution.
Adjustable door bins let you store bottles of all shapes and sizes by
simply repositioning the shelf levels.