Microsoft QQ200513 Office 365 Pro 32/64 English Subscription OS 1YR
Key Information
Type:

MS Office 365 Personal Subscription

Compatible Products:

For 1 PC or Mac, and 1 iPad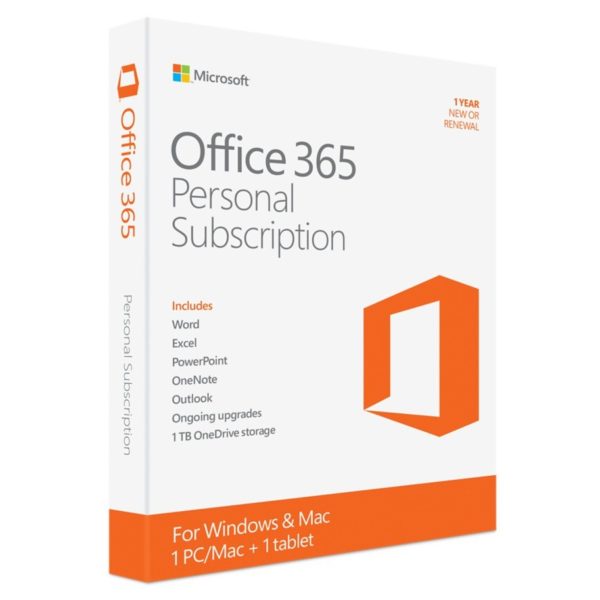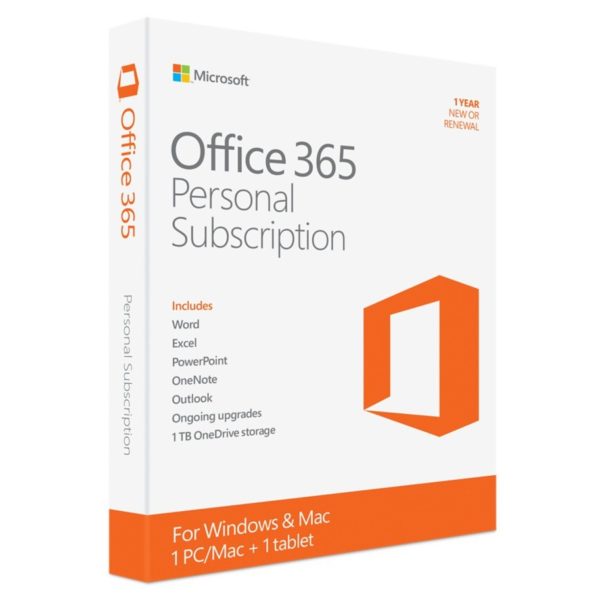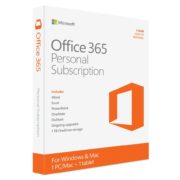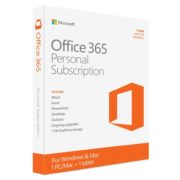 Great for 1 PC or Mac, and 1 iPad, Office 365 helps you get things done from virtually anywhere, on all your devices. Plus, every new upgrade is included so you'll always have the most up-to-date versions or applications.
Word
Create, polish, and share beautiful documents. Now sharing and collaboratingwith the team is a breeze. The new Word allows you to co-author and editdocuments with multiple people at the same time—whether you're in the same roomor across the globe. And cloud integration makes sharing docs a cinch.

Excel
Analyze and visualize your data in new and intuitive ways. Turn numbers intoinsights with the new Excel. PivotTable Slicers help you discover patterns inlarge volumes of data, and Recommended Charts gives you the best charts tocommunicate your data. One-Click Forecasting automatically scans worksheets fordata trends and formats them into charts and tables.

PowerPoint
Create, collaborate, and effectively present your ideas. Co-authorpresentations with your team—working simultaneously. Make comments on relevanttext and images and compare different versions of a presentation with ConflictResolution View.

Outlook
Organize email, coordinate schedules, and stay up to date with contacts. Thenew Outlook has push mail support so your inbox is always up-to-date. Andimproved Conversation View ensures that messages with similar subject linesdon't get lumped in with conversations they don't belong to. You'll also findmore options in how you incorporate and manage attachments.

OneNote
Harness your thoughts in your very own digital notebook. Capture, organize, andshare your ideas with digital notebooks that you can access on any device. Findthings quickly with a powerful search engine that tracks your tags and more.

OneDrive and Skype
With Office 365, you get an extra 1 TB of online storage per user so you canaccess your photos and documents from anywhere, on most devices. Plus you get60 Skype world minutes per month to call phones in more than 60 countries.
Main
Brand
Microsoft
Color
White
General
Type
MS Office 365 Personal Subscription
Compatible Products
For 1 PC or Mac, and 1 iPad
What's in the Box
Microsoft Office 365 license key code
Features
Features
Office 365 Personal Subscription Key | Great for 1 PC or Mac, and 1 iPad | Plus, every new upgrade is included so you'll always have the most up-to-date versions or applications
Additional Features
Includes: Word | Excel | PowerPoint | Outlook | OneNote | OneDrive and Skype
Requirements
Required Memory
4 GB
Required Hard Disk Space
6GB HFS
Required Display
1280x800 | 1366x768
Additional System Requirements
Requirements Operating System: Mac OS X v10.10 or later; Office for iPad require iOS 7 or later, Windows 7 or 8 (64-bit OS only) Hard Drive: 6GB HFS + hard disk format for Office 2016 for Mac, 3GB free hard-disk space RAM: 1GB of RAM, 4GB of RAM Display:
Others
Windows System Requirements
Windows 7 or 8 (64-bit OS only)
MAC System Requirements
Mac OS X v10.10 or later | Office for iPad require iOS 7 or later