Gorenje Built In Microwave Oven BCM598S18X
Key Information
Oven Capacity:

50 Litres

For 4 to 6 members in a family, ideal capacity required is 32 Litres and above

Built In / Free Standing:

Built In

Dimensions (H x W x D):

59.5 × 45.5 × 54.6 cm

Color:

Silver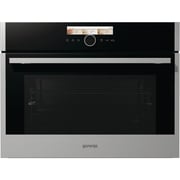 Combined Compact microwave oven is come with built-in microwave and sensors for quick, perfect combination cooking.
The characteristic rounded shape is one of the most beneficial features of Gorenje ovens. Inspired by traditional wood-burning ovens, it enables hot air to move around freely. Since the food is heated evenly and from all

sides, it is always perfectly done: crispy on the outside and juicy on the inside. In superior models of ovens this shape is combined with the MultiFlow 360˚ ventilation system, which enables baking on all 5 levels.

MultiFlow 360° guarantees the optimal circulation of heat within the oven. Due to smartly positioned ventilation openings on the back wall and the unique round shape, air is spread evenly throughout the oven. The fan pushes

hot air around the entire oven volume, making the food perfectly baked on all sides. The dynamic air movement allows simultaneous baking on many levels without smells and flavours mixing together.

Enamel quality and type are exceptionally important for the oven and its operation. SilverMatte is a highly resistant and strong material that can stand extreme heats, even pyrolytic cleaning at 500 °C. Free from micro pores

, it coats oven surfaces and baking trays, making them resistant to the highest temperatures, microwaves and steam. The triple coating of the interior supports heat reflection and provides additional insulation. Therefore, the oven interior always stays sterile and safe.
Main
Brand
Gorenje
Color
Silver
General
Type
Built In Microwave Oven
Built In / Free Standing
Built In
Oven Capacity
50 Litres
Control Type
Knob
Dimensions
Dimensions (H x W x D)
59.5 × 45.5 × 54.6 cm
Power
Power Voltage
220 - 240 Volts
Frequency
50 Hz
Power Consumption
1000 Watts
Features
Features
Glass and varnished metal control panel material
Additional Features
Removable flat oven inner door glass surface
Weight
Weight
38.3 KILOGRAM