Tablets

/

Samsung Galaxy Tab S6 Lite SM-P615NZAXEGY Tablet – WiFi+4G 64GB 4GB 10.4inch Grey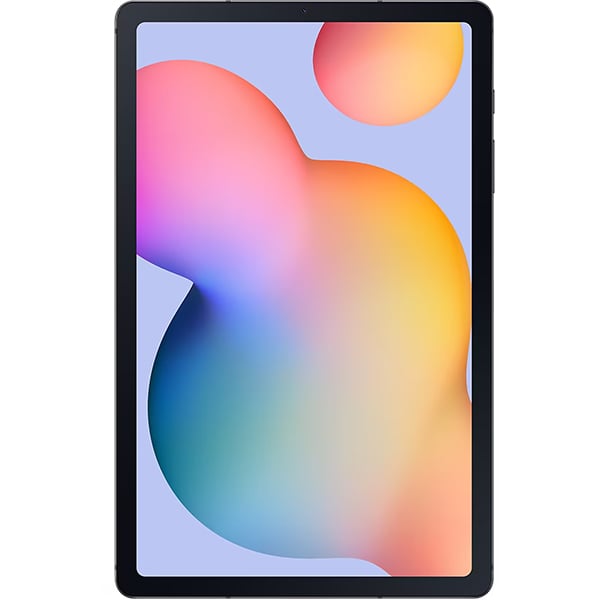 Roll over image to zoom in
Click to expand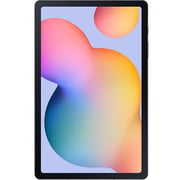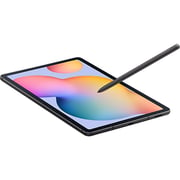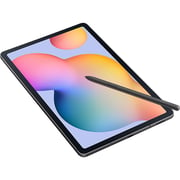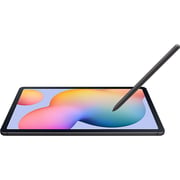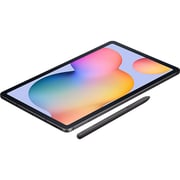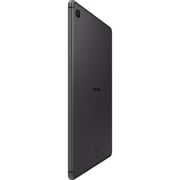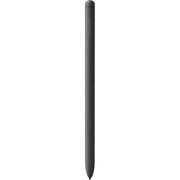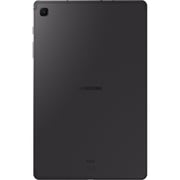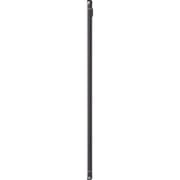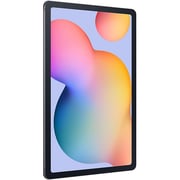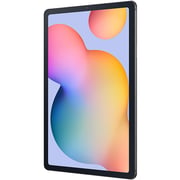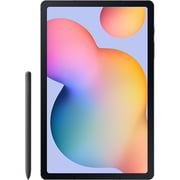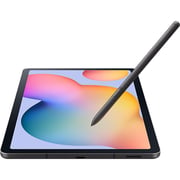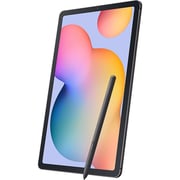 Samsung
Samsung Galaxy Tab S6 Lite SM-P615NZAXEGY Tablet – WiFi+4G 64GB 4GB 10.4inch Grey
Key Information
Color:

Grey

With Built in forth-generation (4G) cellular data service as well as Wi-Fi

Connectivity:

WiFi + 4G

Upto 8000 songs or 15000 photos

Internal Memory:

64 GB

Advanced games & running multiple applications

RAM:

4 GB

Actual size in inches measured diagonally

Screen Size:

10.4 in

The total number of pixels on the screen, more pixels results in a sharper image

Resolution:

WUXGA+ (‎2000 x 1200)

Actual number of megapixels. More megapixels means more clear picture it can take.

Rear / Front Camera:

8 MP / 5 MP

Milliampere hour is a measure of the capacity of the battery. The higher the mAh rating, the more powerful the battery

Battery Capacity:

7040 mah
Details
Samsung Galaxy Tab S6 Lite SM-P615NZAXEGY Tablet - WiFi+4G 64GB 4GB 10.4inch Grey
Change the way you take notes
The Galaxy Tab S6 Lite is your perfect note-taking and get-together. It comes with a large 10.4-inch display in a thin and lightweight design, One UI 2 on Android, and an S Pen ready to go right out of the box. Whether you are drawing, learning or playing, we guarantee that this tablet is the perfect one that fulfills all your requirements.

Lightweight and slim, making it easy to put in a bag.
The Galaxy Tab S6 Lite is thin and light thanks to its streamlined metal design, all-in-one. It also fits easily into a small bag, confirming its portability and simple design. Get it in grey, blue or pink.

Draw your inspirational ideas with the S Pen
The S Pen is a collection of writing tools rolled into one. It also has a natural pen feel to hold, low lag while writing, and impressive pressure sensitivity, all of which make it essential for everything from drawing to document editing. And the S Pen won't be misplaced thanks to the tablet's magnetic case designed specifically for the stylus.

Prepare for big times with a few tricks
Writing down lectures with the S Pen is a breeze. When taking notes, you can quickly type them in first, and then change the font color later. It can also help to quickly sort notes when saved with searchable tags, and you can even write directly to PDFs to eliminate clutter while studying. And when the crucial time comes, you will find yourself more organized and prepared than any of your peers.

Turn your room into a classroom
The Galaxy Tab S6 Lite makes it easy for you to learn individually from the comfort of your own home. Use the S Pen to quickly jot down your thoughts while watching lectures, and streamline your thoughts on Samsung Notes by adjusting the window's transparency. Maintain your academic excellence even from your room.

Draw and communicate with others via PENUP
Enjoy your time at home with the Galaxy Tab S6 Lite by sketching, drawing, coloring and sharing your artwork with others through the PENUP app that brings you closer to friends, allows you to be inspired, inspire others and have fun together despite the distance.

Elegance that inspires confidence
Slip your tablet into its sleek, streamlined cover. The Book Cover surrounds the Galaxy Tab S6 Lite from all sides and attaches magnetically so you can easily slip it in when you're on the go. It also includes a special place for the S Pen so you can ensure that you don't forget or lose it anywhere.

Select your preferred angle
You can prop up your tablet and adjust your screen so that it rests on one corner of the tablet cover for easy viewing. Whether you're reclining on the couch or sitting in a café, you can adjust the screen to watch your favorite content with extra comfort.

Enjoy the nearest cinema hall at your fingertips
Narrower bezels mean more screen space, and on our innovative tablet, the compactly designed screen measures 10.4 inches. Instantly enjoy your own screen in the garden, or watch loops in your bed, and enjoy the rich, 3D sound from the dual speakers while activating the device's landscape.

Speed + memory + energy = fantasy racing
Go ahead and beat your opponents race after race with this tablet that helps you win the game. Your games load fast, run smoothly, and stay connected with blazing Wi-Fi speeds. And don't worry about running out of time recording the broadcast thanks to the long-lasting battery life. Also enjoy more space for your content and files with the expandable MicroSD memory card.

Don't let the site restrict your freedom
When you're out of Wi-Fi range, Auto Hotspot will come to your aid. Securely connect your Galaxy smartphone to your tablet to easily share data without going through settings menus, searching or entering weird passwords.

Stay connected, even if you don't have your phone
The Galaxy Tab S6 Lite syncs seamlessly with your Galaxy smartphone so you never miss an incoming connection. It also allows you to reply to urgent text messages, so you will never lose touch with others. All you have to do is click on the icon in the Quick Panel to complete the seamless connection.

Security at all levels to protect privacy
Samsung Knox provides incredible defensive security to protect your phone. Ensure that your private data is comprehensively protected from malware and attacks with the multi-layered Knox security platform backed by the necessary components.

Ultimate care for the comfort of the eyes
If your tablet time makes you tired and your eyes tired, try turning on Dark Mode via One UI 2 to reduce the strain on your eyes. Whether you like to use this mode to keep it going, or just use it before bedtime, your eyes are always healthy. This mode also helps save battery once it's on.

Compatibility with everyone's capabilities
One UI 2 on Android gives everyone a chance by pushing us to change the way we communicate.

Improvements for the visually impaired
Customizing color preferences and high-contrast elements is easier than ever with One UI 2. The new keyboard is also better-configured for increased visibility.

Improvements for people with limited hearing capabilities
Find out how Galaxy Buds can help you hear better. One UI 2 offers improvements for those with limited hearing, such as amplification of surround sound, through the Accessibility settings.

Discover YouTube Premium
Galaxy and YouTube Premium have teamed up to give you a great experience watching your favorite YouTube content without interruption. Enjoy ad-free content that you can watch offline, with background music, on YouTube and YouTube Music. By purchasing the Galaxy Tab S6 Lite, you can enjoy the first 4 months for free on our account.

Wake up to the sound of your favorite songs
There is no doubt that with us you can enjoy more features that go beyond just listening to music. Treat yourself to the Spotify app on your Galaxy tablet. Get out of bed to the sound of your favorite tracks, and you can even perform a quick song search from the Finder window. Now, you can enjoy your playlists in more ways with the Spotify app on Galaxy devices.